Veggie haven, vine ripe tomato, fresh avocado, black bean and white corn slaw, cotija cheese with cilantro lime crema.
Seared Local Blue Crab Cake in a Warm Corn Tortilla Shell Topped with New O'lean Sauce and Fried Okra.
Seared jumbo gulf shrimp with marinated red cabbage, fresh cilantro, lime and bacon aioli.
Smoked alligator sausage with fiesta rice, black beans, corn salsa, and longboard's sauce.
Extra Crispy Popcorn Shrimp Tossed in Our Home Made Boom Boom Sauce, with Power Slaw.
Slow roasted prime rib, thinly sliced and top with loaded mashed potatoes, creamy horseradish sauce, Onion straws with au jus for dipping.
Our famous alfredo sauce with wilted spinach, goat cheese, caramelized onions, bacon and balsamic glaze.
Veggie haven, spinach, vine ripe tomato, artichoke hearts, red & yellow bell peppers, mushrooms, with balsamic glaze.
Double patty smash burger with American cheese, fresh lettuce, tomato, pickles and onion.
Double patty with seared pork belly, fire roasted new potatoes, red peppers, onions, finished with shredded cheese and a fried egg.
Triple patty smash burger with bacon, lettuce, tomato, extra cheese, mushrooms and onion straws.
Prime Rib Thinly Sliced with Cheese on a Butter Bun. Served with Au jus for Dipping served with fries.
Smoked Texas Style Brisket, Sliced and Smothered with Our Famous Mango BBQ Sauce served with fries.
Fried Gulf Grouper with Power Slaw & Longboard Sauce. Served on a Butter Bun served with fries.
Crispy lettuce with fresh avocado, tomato fire roasted corn and pico ranch served with tortilla chips.
Pineapple, mango, papaya, fresh garden greens, goat cheese finished with a Caribbean vinaigrette.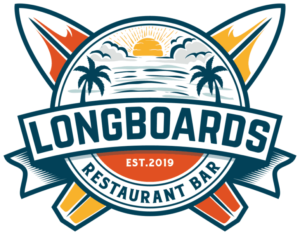 Order online for carryout or delivery! Choose option below.