Now Serving Breakfast 8-11am
2 Soft Tacos with Scrambled Eggs, Bacon, Cheese served with Home Style Potatoes.
2 Soft Tacos with Hashbrowns, Ham, Cheese, Peppers, Onion served with Home Style Potatoes.
Scrambled Eggs, Chorizo Sausage, Pico, Cilantro Lime Crème and Wrapped in a Grilled Tortilla served with Home Style Potatoes
TACO DINNER PLATE - PICK ANY 2 TACOS & SIDE $14
Extra Crispy Popcorn Shrimp Tossed in Our Home Made Boom Boom Sauce, with Power Slaw.
Our famous smash cheeseburger with lettuce, pickle, onion & tomato rolled into a taco.
Our famous alfredo sauce with wilted spinach, goat cheese, caramelized onions, bacon and balsamic glaze.
Veggie haven, spinach, vine ripe tomato, artichoke hearts, red & yellow bell peppers, mushrooms, fresh basil with balsamic glaze.
Double pattie smash burger with American cheese, fresh lettuce, tomato, pickles and onion.
Double pattie, roasted new potatoes, red peppers, onions, shredded cheese and a fried egg.
MASSIVE 3 POUND BURGER, 8 slices of cheese, 28oz of beef, 8 slices of sugar caramelized bacon, Lettuce, Tomato & Pickles, & fried egg, stacked high on 1 and a half butter buns, Surrounded with 10 oz of seasoned French fries. FREE T-SHIRT WITH BURGER.
Seared Angus Sirloin Steak w/ Peppers, Onions & Cheese served on Toasted Hoagie Roll.
Slow roasted beef on French bread with AuJus for dipping and our Longboard Sauce on the side.
2 pounds of vanilla ice cream, 2 ice cream sandwiches, Assortment of candy, & cookie wafers, served in a 45 oz souvenir glass.
Our Souvenir Hurricane Glass Full of Vanilla Bean Ice Cream topped with Chocolate, Caramel, Whip Cream, M&M's and a Cherry on top.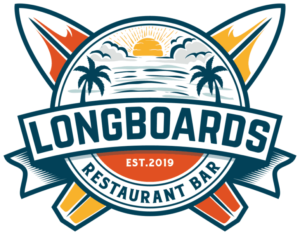 Order online for carryout or delivery! Choose option below.